To submit an event for consideration in our calendar, Email the details including dates, times and ticketing as well as a description of your event or link to more information. When possible, please also include a photograph or illustration. Events in our calendar are selected by our editorial team and the information included is at our discretion. Not all events submitted will be included in our calendar.
Jun
16
Sat
Julio Bevione – Del Cielo a la Tierra

@ La Cité des Rocheuses
Jun 16 @ 1:00 pm – 3:00 pm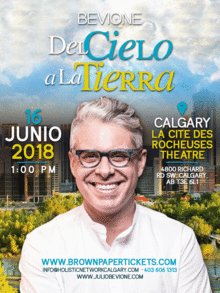 Bevione estrena esta nueva conferencia en el 2018 hablando de un camino espiritual posible y terrenal. ¿Cómo podemos vivir en paz aún en medio del caos? ¿Existe un destino que cumplir? ¿Hasta dónde llega nuestro poder personal? ¿Hay un pasado que nos determina? ¿Por qué nos enfermamos? Respuestas a preguntas como éstas irán marcando un paso a paso que presentará en esta conferencia, para caminar con más claridad en este mundo, con la visión del espíritu, pero con los pies en la tierra.
Mar
20
Wed
Cuba Vibra!

@ Arts Commons, Jack Singer Hall
Mar 20 @ 7:30 pm
Wednesday, March 20, 2019
Arts Commons, Jack Singer Concert Hall
Doors open at at 6:30pm
Concert at 7:30pm
Includes an intermission
*Please be on time. For the respect of the artists and other patrons, latecomers will only be seated at an appropriate break in the performance.
Cuba Vibra! Lizt Alfonso Dance Cuba is a dance party, a tribute to Cuban musical heritage, and a night of pure celebration all rolled into one amazingly immersive performance. One of the most prestigious dance companies in the world, Lizt Alfonso Dance's honours have included being the first Cuban dance company to perform at the Latin GRAMMY Awards as well as the first to perform a run on Broadway.
Choreographer Lizt Alfonso's genius lies in her ability to seamlessly fuse the energy and strength of cha-cha, mambo, rumba, conga, and bolero together from 50 years of Cuban dance history, along with the passion of live Cuban music.
"It's always a hot night in Havana wherever and whenever Lizt Alfonso Dance Cuba performs." – The New York Times